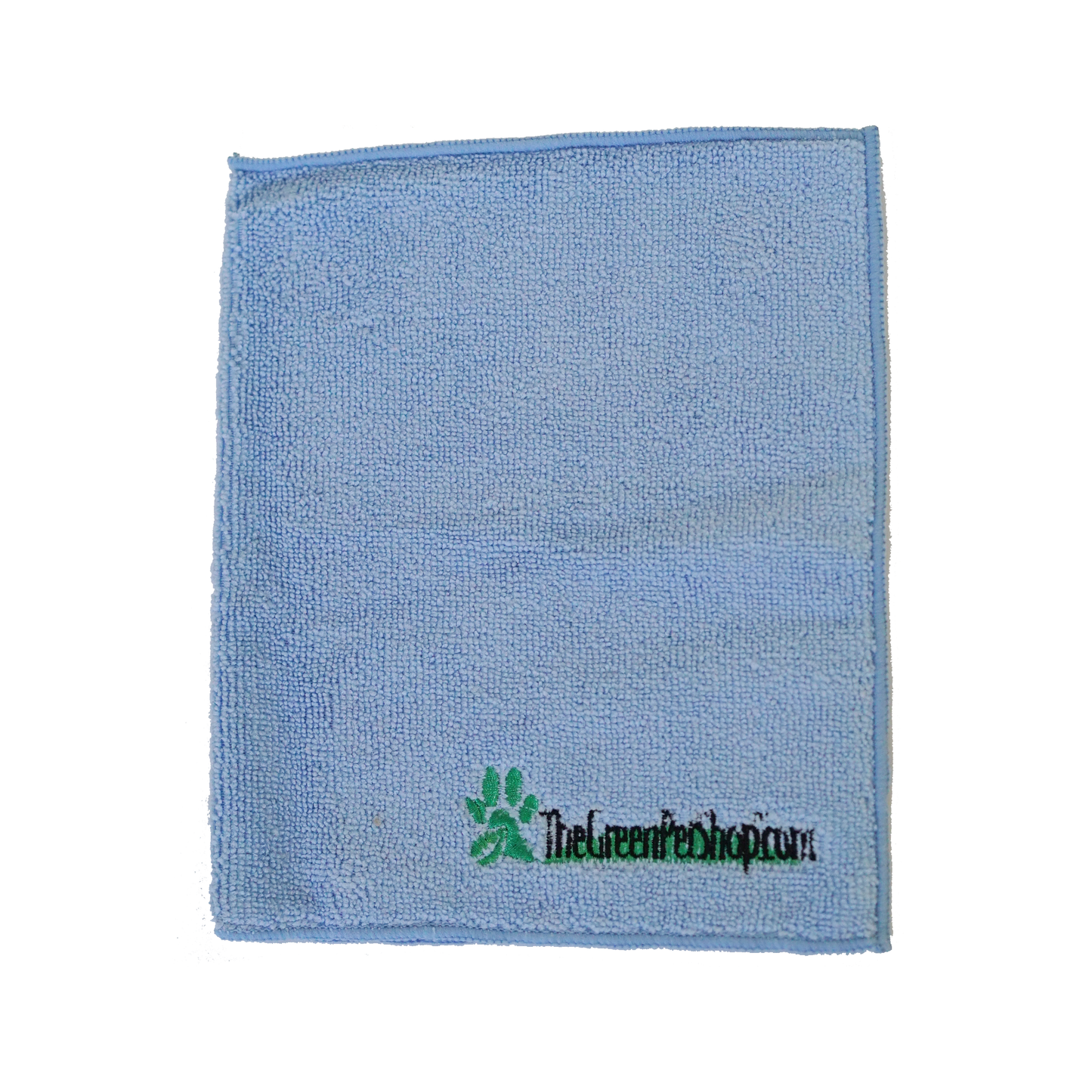 Description
Take a step above the traditional towel with the "Rub-A-Dog" Microfiber Towel & Mitt set. It uses recycled materials and a tight weave for an easier, eco-friendly way of drying, cleaning and washing your pet. The Rub-A-Dog Towel has two convenient hand compartments on each end to make for easy cleaning. Also includes a drying mitt. 
Widely used by groomers

Absorbs 10x its weight in liquid

More absorbent than terry towels
This revolutionary towel is super absorbent to quickly dry your dog or cat after bathing. Ideal for water, mud, salt, beach, anything, anywhere. Durable enough to use over and over again for years to come. Also great for cleaning up cages or crates.
Throw one in your car or take one with you when walking in rain, sleet, snow, at the beach or just for everyday cleanliness. Perfect for wiping wet dirty paws. Works great for removing salt in the winter.
Size

Extra-large towel measures 38" x 16" yet folds compactly for easy storage and travel.
The mitt measures 9" x 7.6" giving plenty of hand room while still fitting in your back pocket for walks. 
Warranty

Returns, Replacements & Warranty Information

We try to make it easy, keeping your pet happy is our goal.

We accept returns in NEW CONDITION only within 30 days of purchase. 

We only accept returns for items purchased directly on thegreenpetshop.com and in the original product packaging. If you purchased our products from a different website or physical storefront, please contact the retailer to request a return.

We do not accept scratched, chewed or products covered in fur. We do not accept returns that are not in original packaging. We advise if you are buying the cooling pad to purchase a cover or use it with a lightweight sheet until you determine if your dog likes the pad.

For unopened and unused products returned in original, sellable condition within 30 days of the date of purchase, we will extend a full refund of the purchase price (excluding shipping charges). We do not refund original or additional shipping fees when returning defect-free items.

We process refunds within 5 days of receiving the item. We recommend you use a delivery confirmation service.

DEFECTIVE ITEMS: Please send us an email if you feel an item is defective upon opening using the contact us form within 30 days. In many cases, defective items do not need to be returned for a refund.

WRONG SIZE: Please place a new order for the correct size. Send back the other item for a refund. We process refunds within 3 days of receiving the item.

OUR MISTAKE: In cases where we have shipped you an incorrect product, we will issue you a return label. We will re-ship your order at our expense.

EXCHANGES: We are sorry, we don't do exchanges. Simply reorder the new item and we will refund you for the item you returned.

CANCELLATION POLICY: If you are attempting to cancel your order due to a promo code error, please reach out to customerservice@thegreenpetshop.com for a price adjustment instead of placing a new order.

If you still need to cancel your order, please send an email with the subject "CANCEL ORDER" to orders@thegreenpetshop.com within one hour of placing your order. Cancellations are not guaranteed, especially on holidays or weekends. We will do our best to accommodate you. 

WARRANTY: The Green Pet Shop warrants to the original consumer, that our products will be free of defects for a period of time (varies based by product) from the date of purchase. The manufacturer's liability hereunder is limited to replacement of the product. This warranty is void if the product has been damaged by accident, unreasonable use, neglect, tampering, or other causes not arising from defects in material or workmanship.

TO EXERCISE YOUR WARRANTY: If, during your warranty period, your product malfunctions*, please call our office at (847) 480-1616 for a return authorization number. Authorizations will require that you have the original dated proof of purchase.
*Please see product description for use instructions.

Please provide us with your order number, the item(s) you wish to return and the reason for the return. Please make sure to properly package your returns as we are unable to issue credit for damaged merchandise.

For approved returns we will issue a credit within 5 business days via the same method of payment used for the order .

The Green Pet Shop is not responsible for rips or tears that were not noticed immediately after the package was opened.
Within 30 days of use we'll replace a pad with tears or rips for 50% of MSRP with a picture of a damage or rip. The customer pays full shipping and handling.
Please include a copy of your original receipt and your return merchandise authorization number and send to:

RETURN ADDRESS

Avanquest Distribution Services
Attn: The Green Pet Shop – Returns
15001 Meridian Parkway Suite A
Riverside, CA 92518 

In cases where we have shipped you an incorrect product, we will issue a return label to have the item picked up. We will re-ship your order at our expense.

If you have any questions regarding these policies, please contact The Green Pet Shop at 1-847-480-1616 or by clicking here.